Greetings,
I know money is tight for a lot of people right now, so here's your chance to get 6 Indie games for less than $5.00.  If you have more, give more as the money goes to charity!  You get the following games:
Greetings,
I thought I would share some info from HDMI.org, it is a great site and has a lot of useful information.  Read the rest of this entry »
Greetings,
Since the 3D gaming part of the Optoma HD33 review is taking a bit longer than expected, I thought I would share some pictures from the auto show.  Read the rest of this entry »
Greetings,
I am working on the review, but have encountered a snag with the 3D part of the review.  It will probably be a few more days before I can finish up.  I have a feeling it is a compatibility issue with the projector, and Nvidia 3D Vision.  It is not on the compatibility list, and the 3D Vision software only supports HDMI 1.3 from what I have read on Nvidia's site.  There is new software out to remedy this issue, but Art is contacting Nvidia directly to see if that is the issue.  Once I receive the software I will be able to get the 3D up and running.  Here is a link to the software I am referring to:
http://www.nvidia.com/object/3dtv-play-overview.html
Other than that, I am liking the HD33, and I love the Nvidia GeForce GTX580.  This is a video card that can take anything you throw at it, and I highly recommend it based on the past few weeks of gaming with it.  I am sure the 590 is better.  Although I feel the 590 is a bit overpriced, but that's because I am a cheapskate…ha ha.
Take care,
-Ebenezer
Greetings,
This is my first pico projector review, and let's just say…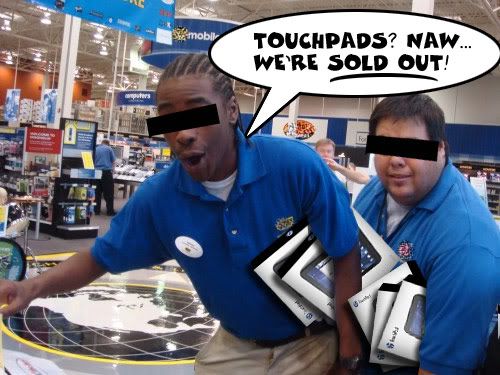 Hello Again,
It seems the HP Touchpad has pretty much dried up everywhere; Read the rest of this entry »
I have been out for a few days, but this is insanity.  The price of the HP Touchpad originally was an MSRP of $399 for the 16GB, and $499 for the 32GB.  Since Friday evening… Read the rest of this entry »
Greetings,
I just installed the EVGA GTX580 video card into my rig, shipped directly from Nvidia.  I previously had an ATI Radeon HD5770.  My impression of the GTX580 is…
Thousands of people dress up, and take it very seriously.   Some invest thousands of dollars into their costumes, and I love them for it.  Read the rest of this entry »