One of the most commonly asked questions we get here at Projector Reviews is, "What projector should I get for my bright room?" While the answer will ultimately depend on your needs beyond brightness, we have compiled a list of five home entertainment projectors at varying price points that will blow ambient light out of the water, for 2018. But first – what is "ambient light"?
Ambient light is a term that refers to the light hitting your screen that comes from sources within your viewing space. That can be overhead lights, such as recessed lighting or ceiling light, a lamp on your side table, or light spilling in from another room or through the sides of your blinds or curtains. There are a few ways to combat ambient light, which we will get into in the next section.
How to Combat Ambient Light
When light hits your screen, it causes the projected image to become less saturated, dimmer, and overall, more difficult to see. In the worst cases, dark scenes become impossible to watch, while brighter scenes lack the luster that they would normally have in a completely dark room. No good! Luckily, there are plenty of ways around this.
The first and most obvious way to overcome the effects of ambient light, perhaps, is to get a super bright projector. In most cases, 1,500 to 2,500 lumens would be enough for your bright room if you have at least moderate control over ambient light – that is, the ability to draw curtains or blinds and shut off your lights.
The higher the lumens, however, the brighter the projector, and the easier it will be able to cut through ambient light. In some cases, you wouldn't even have to install blackout curtains. They're super affordable on Amazon, though, if you want to go that route. I personally love them and I purchased them so that I would be able to review all of the projectors that come through my house during the morning hours, when I am most productive. That's the second way to combat ambient light.
The third technique is arguably the most expensive of the three, save for buying a new projector, and that is to install an ALR screen. ALR refers to Ambient Light Rejecting, and it works like a charm. I reviewed Elite Screen's CineGrey 3D material back when I first started reviewing projectors, and found it to be quite effective. I would still have that material up if it played nice with ultra short throw projectors, which are the most common type that I review here – alas, it does not. There are other ALR screens specifically designed for UST projectors, if you've got one.
An ALR screen paired with a truly bright home entertainment projector would be fantastic for rooms with a lot of uncontrollable ambient light. Art has such a room in his home – the living room has these great glass doors and windows facing the ocean, so for a good portion of the day, the room is horrendously bright for projectors. He does a good job of combatting that ambient light with a similar setup to the one I just described – a bright projector and an ALR screen. That said, let's take a look at five home entertainment projectors that Art and I agree would be up to the task.
Epson Home Cinema 880
With a current selling price of only $499, the Epson Home Cinema 880 is the manufacturer's most affordable Home Theater model. The HC880 can deliver a good-looking picture on a large screen or even a blank wall. The Epson Home Cinema 880 is a great option for a bright room or a backyard movie night.
It's a 1080p lamp-based projector and can produce up to 3,300 lumens of brightness while still delivering good color accuracy. This lamp-based projector produced brighter and more accurate colors than many DLP laser projectors that cost 3X more.
In addition to the Epson Home Cinema 880's being a good option for your bright room, you can easily connect a cable box, Blu-ray player, gaming console, or streaming device to the HC880 via its HDMI input. The Epson Home Cinema 880 projector can also support Mira casting with mobile devices such as laptops, smartphones, or tablets. The Miracast feature allows the viewer to project or mirror a device wirelessly without any additional software.
Epson takes industry brightness standards very seriously, which is good news for those looking for an excellent projector for a bright room to ensure when comparison shopping you know just what you are going to get. In fact, Epson has recently filed lawsuits against several manufacturers who made false brightness claims, which is discussed in our article on Brightness Standards Matter.
The HC880 does not have many bells and whistles, but if you desire an excellent image from an affordable projector, the HC800 should be at the top of your list.
Read the Full Review: Epson Home Cinema 880 Review
Buy the Epson Home Cinema 880 on Amazon: Buy Now
BenQ TH585
The BenQ TH585 is a DLP projector that produces 3,500 lumens of brightness, and because it is DLP, the image should remain sharp for the life of the projector. The BenQ TH585 has 8 preset picture modes and several delivered good color reproductions out-of-the-box including the CINEMA, LIVING ROOM and two USER modes. Like all BenQ projectors, the TH585 also has a full set of picture calibration adjustments.
The BenQ is also a 1080P lamp-based projector and could also be used as a great backyard projector.
We get asked constantly by readers to recommend a great "starter" projector. We stress that it's better to spend a little more on a projector like the Epson HC880 or BenQ TH585 instead of a cheaper unit on Amazon, in the long run you will be glad you did and will be rewarded with much better performance.
Speaking of stepping up to the better projector, we did a side-by-side comparison of the BenQ TH585 and the less expensive Vankyo V630, and you will see that you get what you pay for. This is why the BenQ TK585 made our list of one of the best projectors for your bright room.
Read the Full Review: BenQ TK585
Buy the BenQ TH585 on Amazon: Buy Now
BenQ TK850i
If you are looking for a 4K HDR capable home entertainment projector, we highly recommend the BenQ TK850i. The BenQ TK850i is an excellent home theater projector that produces 3000 lumens and sells at a MSRP of $1699.
Built off of Texas Instruments, highly regarded 0.47″ DMD DLP system and utilizing XPR technology the TK850i is a powerful pairing TI and BenQ technologies, that, together, create the impressive 4K image projected on screen. The TK850i is a pixel shifting projector that can display 4K UHD (3840 x 2160) pixels on screen.
With the TK850i BenQ has managed to increase the projectors light output by a third when compared to previous models like the HT3550. This increase means that the TK850i will perform remarkably well both in darkened rooms or in rooms with uncontrolled ambient lighting.
For enhanced portability, the TK850i is equipped with Android TV which gives you access to apps and services like Google Play, Prime Video and YouTube. Once installed, the included Android TV USB dongle acts as a streaming and media box with many channels and apps built in.
The BenQ TK850i streaming stick comes with Chromecast built in. Cast your favorite entertainment from your Android or iOS device, Mac or Windows computer, or Chromebook to your projector, all without needing to purchase a TV stick. The TK850i's media adaptor also supports AirPlay, with a compatible Apple device.
Read the Full Review: BenQ TK850i
Buy the BenQ TK850i on Amazon: Buy Now
LG GRU510N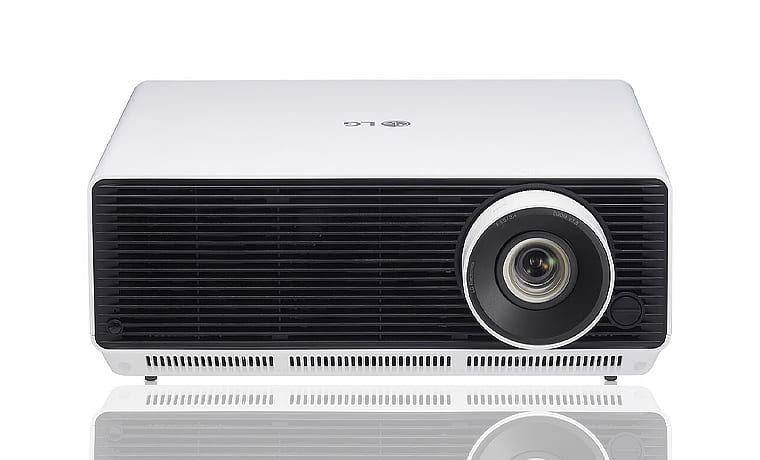 If you are interested in a 4K HDR capable home entertainment projector with the maintenance free benefits of a laser light source, we recommend the LG GRU510N for your bright room.
The LG GRU510N is an HDR-compatible DLP home theater laser projector that retails for $3999. It utilizes a single DLP (0.47" DMD) chip to reproduce 4K UHD resolution (3,840 x 2,160).
The unit's laser phosphor light engine can deliver an amazing 5,000 lumens of brightness and it is designed to provide a vivid 4K image in any environment, even in a room with high ambient light. The projector's laser light source is rated for up 20,000 hours allowing years of near maintenance-free operation.
The GRU510N is compatible with HDR10 content, and it is also one of a limited number of projectors capable of Dynamic HDR Tone Mapping. This feature automatically adjusts dark/bright levels to optimize the unit's HDR performance.
The GRU510N is equipped with various options to simplify accessing content wirelessly, including Miracast. The WebOS browser will provide access to web pages and media from YouTube or Netflix. You can also access media and files for playback from a USB drive.
If you are looking for a bright projector with accurate colors for a room with lots of ambient light and low maintenance is a priority, the GRU510N is definitely a projector you should consider.
Read the Full Review: LG GRU510N
Buy the LG GRU510N on Amazon: Buy Now
Epson Epiqvision LS500
For those looking for a Laser TV to replace a traditional flat panel, to be used in a bright room, the Epson Epiqvision LS500 is one of the best options out there. With 4,000 lumens of brightness and excellent color accuracy. It is one of the brightest Laser TVs we have reviewed to date. The LS500's best picture quality mode was almost twice as bright as some of the Laser competitors.
The LS500 comes with a choice of 100" or 120" fixed wall screen, and depending on what size you choose, will vary in price from $4,999 – $5,999 (or on Amazon for $3,500). It installs easily – assembling the screen takes about 10-15 minutes with no wires to run, just align the projector on a low table in front of your screen and start enjoying. The projector's sound system is also much better than most flat panel TVs or traditional home theater projector.
The Epson LS500 includes an Android TV operating system and has voice search with built-in Google Assistant. Users can still stream live TV through popular apps, like Netflix, HBO, Showtime, YouTube, Hulu, ESPN, and more.
The Epson LS500 is a great TV replacement option and offers, essentially, unlimited content from streaming services. Plus, you have inputs for your cable/satellite box, game console, or 4K Blu-ray player. The LS500 also includes a sound system that is better than most flat panel TVs or home theater projectors.
Read the Full Review: Epson Epiqvision LS500 Review
Buy the Epson Epiqvision LS500 on Amazon: Buy Now
Related Reading