The Screen Innovations (SI) 5 series fixed line of projector screens are available in a wide array of screen materials including ambient light rejecting, acoustically transparent, and ultra-short-throw options. They can be utilized in both residential and commercial applications. Like all fixed screens by Screen Innovations, the 5 series is hand built from a sturdy 3.5-inch aluminum extrusion which is wrapped in a fine velvet material. This ensures that the frame is as unobtrusive as possible during the viewing experience, as well as hides any projector "over spray". While you should always try to fit the image perfectly on the screen, this can sometimes be difficult especially when setting up an ultra-short throw projector. No matter how careful you are, a tiny bit of the image will often leak into the border and the black velvet border makes this leakage far less noticeable.
When I agreed to write reviews for Projector Reviews, Philip, Storyteller-in-Chief and knower of many technical things, reached out to SI, knowing their reputation for quality projector screens, and they graciously offered to set me up with one of their 5 series fixed screens. I knew I wanted a fixed screen, that it needed to be high quality, and that it would be seeing a wide variety of projectors – SI had the perfect fit.
I chose a fixed screen a fixed screen because it offers the best performance for the price. To get the similar performance from a retractable screen would require a tab tensioned model which are significantly more expensive. While it is nice to have the screen disappear when the projector is not in use you will definitely pay a price premium for this benefit.
While Screen Innovations offers literally dozens of screen materials, since I will be reviewing a wide variety of projectors, Philip recommended a matte white screen.  A specialized ultra-short throw material does a great job enhancing the performance of that specific type of projector, but it would reduce the picture quality of a traditional projector. While Matte white material doesn't enhance the picture performance of a specific type of projector, it does not hurt the picture performance either.
In addition to several different materials, the 5 series is also available in three different aspect ratios which are 16:9, 16:10 and 2:35:1. Since I will be playing games, watching movies and TV shows, and I am fine with letterboxed widescreen content, I chose the 16:9 aspect.
The 100-inch 5 series fixed screen came very well packaged. The outer packaging took some abuse during shipping, but there were multiple protective layers inside that left all the screen components perfectly intact.
Assembling the screen was easy between two people and several White Claw's (White Claw is not sponsoring this article, but if they want to, please contact me through projectorreviews.com). SI includes an Allen wrench for you and a friend, a pair of nitrile gloves, and all the appropriate hardware. All you need to provide is a drill to assist with installing the wall brackets, a level, and a tape measure or square.
Start to finish, I think it took the two of us around an hour to set up and install the screen. The most tedious part was getting the corners of the extrusions squared, and deciding where to mount the wall brackets, but it really wasn't difficult. My only "complaint" about the instructions is that they were a bit vague about the placement of the brackets. They do provide a handy formula for determining their height and the spacing of wall studs, but no instruction beyond that.
The vinyl screen material has a fairly strong plastic scent to it initially, but it dissipates after a few days. It is held in place via sliding button style snaps on the back of the extrusions. It does take a bit of effort to stretch the material in to place, and I was worried that I might damage it in trying to do so, but it didn't tear or seem to take any damage, nor did it have any visible stretchmarks or distortion.
The assembly instructions provide details on how to properly attach the buttons on the screen material to the metal extrusions in the correct order, but there is no reference on the metal extrusions or screen material, so the assembler has to be careful to count out the proper number of buttons on each side during the process. Even while trying to be conscious of this, I had to start over at least once. A little attention to detail will prevent this from happening, but it was definitely a hiccup for us during the assembly process.
Once the screen is assembled, and the brackets mounted, hanging the unit is very simple. It's doable by one person, but I'd highly recommend making it a 2-person job. The overall fit and finish of the 5 series fixed screen has a very clean, unobtrusive appearance. It is an incredibly well built, sturdy, and simplistic design that should easily hold up to any standard wear and tear that a screen of this design might expect to see (moving, kids, etc.).
As for the how the projected image looked on the screen itself, here are a few photos I took watching a variety of content.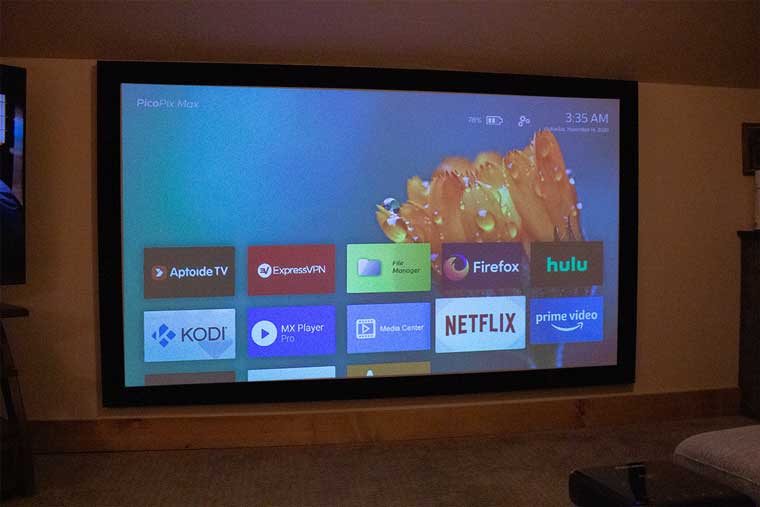 Please note, the pictures I took are from a Pico Pocket Projector I am currently reviewing, so the images on the photos are not as vibrant as they would be with a higher-end, brighter projector. I will update the photos when I get a higher Lumen projector..
The SI 5 Series Fixed Screen works best in a dark room, due to my choice to go with the matte white screen material but is still usable with some ambient light. There are some screen options that better suit a well-lit environment, but like I mentioned earlier the white works best for the variety of projectors I'll be using.
The velvet absorbs light extremely well, so if your keystone or image size is a bit off, it's hard to tell, and is less distracting from the overall viewing experience. I have used a several different projectors on the screen so far, and have been happy with the results from each.
The image is the same regardless of what angle you're viewing the screen from, and there is no image distortion from the screen. Overall, I am very happy with the Screen Innovations Screen!