As previously mentioned, we installed a 165-inch Stewart Filmscreen Balón Edge screen with StudioTek 130 G4 MicroPerf X²  THX Ultra Certified - Acoustically Transparent screen material. Philip chose the StudioTek 130 G4 front projection screen material due in part to its optimized white uniformity and the fact that Stewart Filmscreen designed the StudioTek 130 G4 to be thirty percent brighter than the standard matte white screen surface. The peak gain of the StudioTek 130 G4 is 1.3 at 0 degrees.
Philip paired a 3,200 lumen, Sony VPL-XW7000ES, Native 4K SXRD Laser Projector with the Balón Edge. The Sony VPL-XW7000ES is equipped with the X1 Ultimate video processors, which have been optimized for projector applications. The X1 Ultimate is Sony's most powerful video processor, and it was first introduced in Sony's flagship 4K SXRD projector, the VPL-GTZ380. This processor is what gives the projector the ability to do frame-by-frame HDR tone mapping.
We ran a ton of content on the StudioTek 130 G4 MicroPerf X²  THX Ultra Certified - Acoustically Transparent screen material. The experience of using the Balón Edge was nothing short of outstanding, whether it was SDR or HDR content, all of which we were playing from a Kaleidescape movie server and movie player. Philip wanted digital movies with lossless audio and full reference video quality for this application, and Kaleidescape delivered. From musical dramas to science fiction action-thriller movies, everything we watch looked great on the StudioTek 130 G4. Images were bright, crisp, and had vivid colors.
The StudioTek 130 G4 has recently undergone reformulation, resulting in a front projection screen material that is now more flexible and has reduced sparkle. Additionally, this latest version of the material offers an exceptional high dynamic range (HDR) of luminosity and white field uniformity that outperforms many competing gain screens.
As previously mentioned, compared to a matte white screen surface, the StudioTek 130 G4 is thirty percent brighter. In addition, this screen material is equipped with a fourth-generation, proprietary optical coating that enables precise, sharp focusing of content and delivers superb color with outstanding white field uniformity. As a testament to its quality, StudioTek 130 G4 has been certified by THX.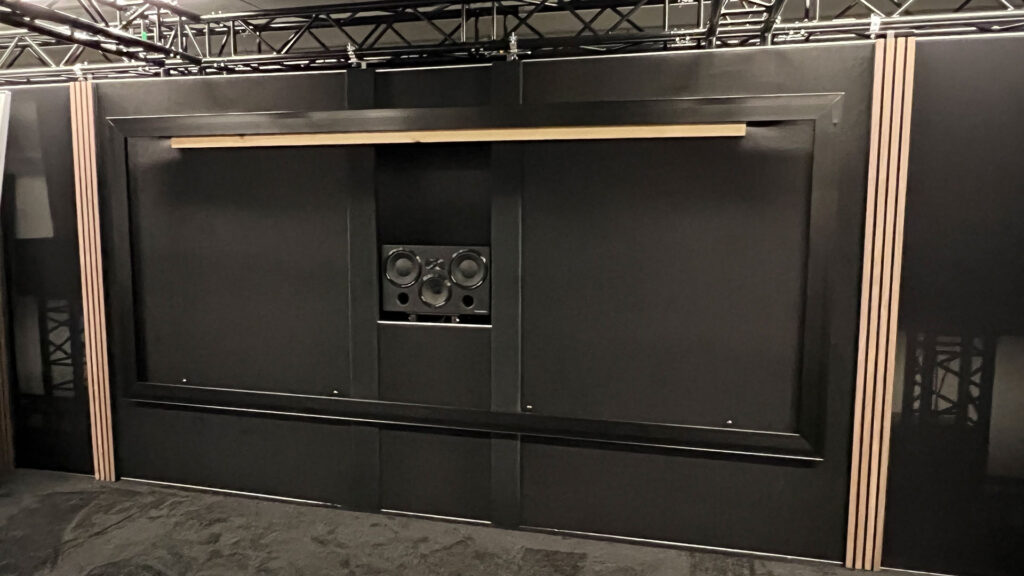 Philip also chose Stewart Filmscreen's MicroPerf X²  THX Ultra screen perforation for sound transparency and its specialized diamond-shaped perforation pattern, oriented to eliminate moiré. The theater is filled with Bowers & Wilkins Custom Theater (CT) speakers, including speakers directly behind the screen. Bowers & Wilkins custom theater speakers use advanced driver technologies, such as their "Aramid Fibre" cone driver, to deliver high-quality sound reproduction with low distortion and high clarity.
The speakers also use specialized crossover networks to ensure that each driver is optimized for its specific frequency range, resulting in a more balanced and natural sound. A consumer installing a Bowers & Wilkins home theater system with speakers directly behind the projector screen will most certainly want an acoustically transparent screen like the Balón Edge.
No matter my seat in the theater, I could not see micro-perforations on the screen. The only way I could see the micro-perforations on the screen was by walking up to the screen and standing close to it. As promised by Stewart Filmscreen, I also did not see any moiré thanks to their diamond-shaped perforation pattern.
The Balón Edge features a 0.5-inch border wrapped in Velux light-deadening material, providing on-screen content perceived contrast. On-screen content perceived contrast refers to the visual difference between the darkest and brightest areas of an image as perceived by the viewer. It is a subjective measure of contrast that takes into account not only the actual contrast of the image but also the viewer's perception of the image. What's not subjective is the Velux light-deadening material's ability to absorb overscan light. The Velux material did a great job, exactly as advertised.
Stewart Filmscreen makes picking your Balón series fixed frame screen system easy. Step one is to choose a Borderless (Balón Borderless) or Minimally Bordered (Balón Edge) Fixed Frame Screen System. Step two, order the optional LED kit or go without it. Step three, pick your screen material. The last step, step four, is to choose if you want Stewart Filmscreen to micro-perforate your screen to make it acoustically transparent.
If you're unsure about what you need, the Stewart Filmscreen website has an easy-to-use screen finder that will help you find your perfect screen. All you have to do is answer a few questions to get recommendations for your idyllic screen. The Balón series, Borderless or Minimally Bordered Fixed Frame Screen System starting MSRP is $2,776.55 (USA Only). A 165 inch screen like the one we reviewed would retail for around $8000. 
In summary, the Stewart Filmscreen Balón Edge is a high-end projection screen series designed for use in professional and residential installations where exceptional image quality and visual appeal are desired. It is particularly well-suited for use in high-end home theater and media room installations, as well as in conference rooms, boardrooms, and other commercial settings where high-quality projection screens are required.
The Balón Edge is a good choice for those who want to create a truly immersive and engaging viewing experience and are willing to invest in a high-quality projection screen to achieve that goal.