We are excited to let you know that JVC has announced a new series of 8K D-ILA home theater projectors. These 8K e-shift models all utilize their BLU-Escent laser light source and they are the world's first projectors to offer 48Gbps 8K/60p inputs.
JVC offers two different series of 4K D-ILA projectors, which differ mainly in their cosmetic appearance and are sold through different channels. For example, the NX (Procision) Series projectors are sold through retailers like BestBuy and Crutchfield, while the RS (Reference) Series models are available through the custom installation dealer network.
The three new JVC laser projectors are available in both the Procision Series and Reference Series lines. The new Procision Series models are the DLA-NZ9, DLA-NZ8, and DLA-NZ7, and the Reference Series equivalents are the DLA-RS4100, DLA-RS3100, and the DLA-RS2100.
| Model | Price (SRP) | Display Resolution | Brightness | Native Contrast | Lens Assemby |
| --- | --- | --- | --- | --- | --- |
| NZ9 / RS4100 | $24,999.95 | 8K/e-shiftX | 3000 lm | 100,000:1 | Premium 100mm |
| NZ8 / RS3100 | $14,999.95 | 8K/e-shiftX | 2500 lm | 80,000:1 | 65mm |
| NZ7 /RS2100 | $9,999.95 | 8K/e-shift | 2200 lm | 40,000:1 | 65mm |
BLU-Escent Laser Light Source
These newly introduced projectors all utilize JVC's 3rd generation BLU-Escent laser light source technology which is more efficient and compact. Due to its higher output, this upgraded light source can produce up to 3,000 lumens of brightness for 20,000 hours of nearly maintenance-free operation. The increased brightness allows use with larger screens and increases the peak onscreen brightness during HDR playback.
This high contrast ratio and deep blacks have always been some of the main benefits of a JVC D-ILA projector. In addition to the high native contrast ratio provided by the JVC D-ILA panels, the BLU-Escent laser light source can also be precisely modulated with over 1000 steps of dimming to deliver a dynamic contrast of ∞:1.
The new models deliver rich vibrant colors. JVC also claims that with the Cinema Filter engaged, they can reproduce 100% of the DCI-P3 color space.
8K ShiftX Increases Displayed Resolution
All the new JVC NX Series and RS Series projectors are equipped with JVC's 0.69-inch native 4K D-ILA devices, so can accurately reproduce all 8.8 million pixels found in 4K content. In addition, JVC's proprietary 8K e-shift feature can shift each pixel diagonally by 0.5 pixel to increase projected resolution. Before, this feature was only available on last year's higher-end RS3000 / NX9. This year it is available on the DLA-RS2100/NZ7 at just $9,999.
8K/e-shiftX found on the NZ9/RS4100 and the DLA-NZ8/RS3100 is a new and improved version. It can now shift each pixel in four directions (up, down, left, and right) to produce over 35.3 million addressable pixels, which is enough to faithfully display 8K resolution. The D-ILA drive device was also improved, and it is now possible to display images at a speed equivalent to 240Hz.
48Gbps HDMI 2.1 Inputs Accept 8K/60p and 4K/120p Signals
While the RS3000 offered 8K e-shift, due to its 18Gpbs HDMI 2.0b inputs, it could not accept an 8K signal but the unit could upscale 4K content to 8K before it was displayed. All the new 2021 models include 48Gbps HDMI 2.1 inputs so that they can accept both 8K/60fps and 4K/120fps signals.
While there isn't a lot of 8K or high frame rate video content, 4K@120fps will provide a high-quality gaming experience from a high-end gaming PC as well as the latest PlayStation and XBOX gaming consoles.
Precise Dynamic HDR Tone Mapping With HDR10+ Support
On a lot of projectors, HDR content can appear dull due to a lack of brightness. The JVC's proprietary Adaptive HDR tone mapping combined with the Theater Optimizer feature helps eliminate this problem. JVC added this functionality to most of their previous native 4K and 8K e-shift DiLA projectors.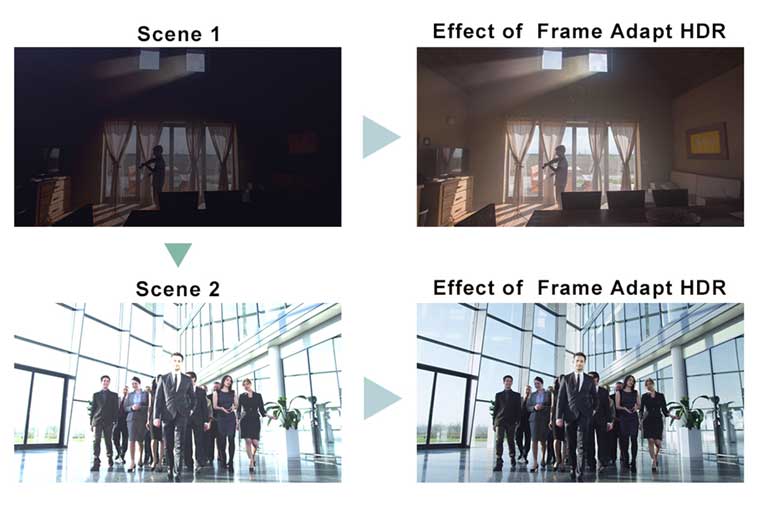 HDR projectors typically can't maintain the required brightness to faithfully reproduce the material. Therefore, projector manufacturers rely on tone mapping – which is a compromise between maintaining bright highlight details and delivering full-screen brightness.
JVC's Adaptive HDR tone mapping dynamically measures the brightness of HDR10 content and automatically adjusts the projector settings to deliver the best HDR picture possible. The Theater Optimizer feature combines information provided by the user with the projector's current status information to provide a more accurate baseline on which to apply dynamic Tone Mapping.
For example, the user can input information like screen size and gain while the projector takes care of settings like lens zoom position, lamp power, and other relevant details. Combining user information and default projector information, the projector can automatically and precisely adjust the projector for optimum tone mapping and brightness.
Theater Optimizer and Frame Adapt HDR result in great-looking HDR10 content while eliminating the hassle of having to constantly make manual Brightness and Contrast adjustments from bright to dark scenes or from movie to movie.
In addition to supporting HDR10 used in UHD Blu-ray and streaming, and HLG (Hybrid Log Gamma) format used in live broadcasting, support for HDR10+ has also been added to this year's models. In HDR10+ content, the luminance information for each scene is embedded in the content as metadata, so tone mapping can be performed according to the scene. This helps the projector faithfully reproduce the HDR images as intended by the creators.
High-Quality All Glass Optics
The top-of-the-line DLA-NZ9 / RS4100 is equipped with JVC's premium 100mm diameter all-glass lens, which is 35 percent larger in diameter than the high quality 65mm diameter all-glass lens used in the other new JVC DiLA home theater models like the NZ8 / RS3100.
The 100mm lens assembly utilizes 18 all-glass elements set in 16 groups, with five of these elements featuring low dispersion optical coatings to prevent issues with chromatic aberration and provide a sharper edge-to-edge image.
Not only does the 100mm lens assembly deliver an ultra-sharp 8K picture and a wider lens shift range but the better optics are also the reason why the DLA-NZ9 / RS4100 is 500 lumens brighter than the NZ8 / RS3100.
Summary
When it comes to picture quality LCoS based home theater projectors like the JVC DiLA and Sony SXRD models are in a class by themselves. We have yet to find a single chip consumer 4K DLP projector that could come anywhere close to the color fidelity, contrast, and black level of a JVC D-ILA projector.
Adding a laser light source, 8K HDMI inputs, and 8K e-shift puts these models head and shoulders above the competition. We look forward to reviewing these new JVC projectors in the very near future.
The DLA-NZ9 / DLA-RS4100 has an MSRP of $24,999, the DLA-NZ8/DLA-RS3100 has a list price of $14,999, and the DLA-NZ7/DLA-RS2100 will be $9,999. All the new models come with a 3-year warranty that includes 1st-year advance replacement and they will be available for purchase in October.
For those with a smaller budget, the lamp-based DLA-NX5 will continue in the lineup at $5,999 SRP. To learn more about these new models, check out the D-ILA Home Theatre projector section on the JVC website